ADDITIONAL HAULAWAY SERVICES
---

Waste and Recycling Toter Rental
Do you need an additional 65gal toter for your curbside pickup? Haulaway customers can rent additional toters for either waste or recycling for a small monthly fee plus delivery. The 65gal toter will be delivered to your door and if the container ever breaks we will replace it free of charge. Please call our office at 303.688.0344 for pricing and availability.
Not only do we offer curbside collection, we can also take care of your business and/or special project needs with many different options.
---
Homeowners Association (HOA) Services
Haulaway offers a wide array of HOA services that are customized to fit your communities' specific needs. Neighborhoods from 15 homes up to many thousands of homes can benefit greatly from one waste and recycling provider servicing an entire community. Benefits like Safety; only one company driving through your community one day per week. Value; the savings that result from maximizing our efficiencies are passed on to the HOA. Accountability; knowing who to call and having a direct line to an account representative at all times for any service issues or for anything the HOA may need. Please call our office at 303.688.0344 to speak to an HOA account specialist today.
---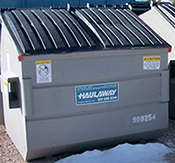 ---

---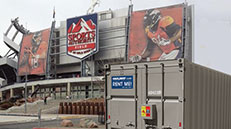 With Haulaway portable storage containers (10, 20, 21, 26, and 40 feet), there is no job too big or too small for us to handle. Click here (link to send them back to the storage website) to go to our storage website for more information or call our office at 303.688.0344 for pricing and availability.
---
Thanks again for choosing Haulaway for all of your waste and storage needs!