Large Storage Containers Los Angeles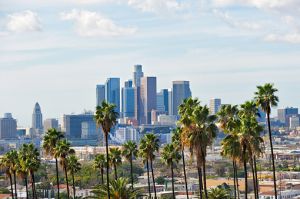 Does your business need large storage containers in Los Angeles? Storage is helpful for a variety of industries, but offsite storage units can be expensive and time consuming to drive back and forth, move goods, and a hassle to access. Instead consider onsite industrial storage containers for your company. Whether you are an office building that needs space for extra furniture, a retailer with excess inventory, a school that needs a spot for supplies, a contractor with tools and construction supplies to store, or a government facility that needs storage, Haulaway Storage Containers is the answer to your storage problems.
There is a myriad of applications for our large storage containers in Los Angeles, as we've shown. Haulaway offers a variety of sizes to accommodate your needs. We carry 10', 21', and 26' roll-off containers, and 20' and 40' cargo containers.  These five sizes cover a wide scope, from a smaller unit perfect for storing holiday decorations at a private residence to an oversized unit that could fit a vehicle. Don't see what you need? We can also custom build a storage unit just for you! Haulaway's dedication to customers is what sets us apart in the storage industry. We proudly serve California, Oregon, Washington, Nevada, Utah, Arizona, and Colorado with responsive customer service, quick delivery times, and clean and well-built units. Find our storage containers' prices by filling out our convenient online form for a quick quote or by calling us.
Of course it's not just about who can provide large storage containers in Los Angeles. In addition to reasonable storage containers prices, Haulaway offers fast delivery (often within one business day), secure units protected by our patented Rhino Locking System, and fantastic customer service! With all the advantages of having convenient onsite storage for your business, organization, non-profit, or private residence, what are you waiting for?
RECEIVE A QUICK & FREE ONLINE QUOTE OR CALL US NOW AT 800.826.9040