Construction Shipping Container in Los Angeles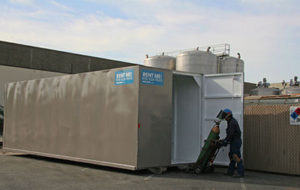 One of the most important aspects of choosing the right construction shipping container in Los Angeles is the service the company offers you. Since 1968 Haulaway Storage Containers has serviced the California area with prompt shipping container rental that ensures customers have the right storage space for their business. Whether your business is performing a remodel or you need a place to store construction materials, these shipping containers from Haulaway are perfect for the job and the service is on time to your site every single time when you partner with Haulaway.
Offering Affordable Storage Containers Since 1968
Do you need a variety of sized containers? The shipping container rental you can experience from Haulaway offers you five different sizes to choose from. With these containers you can have a ten, twenty, twenty-one, twenty-six or forty foot construction shipping container in Los Angeles to fit your business needs. This gives you the flexibility to have a small container in a tight space that works great for storing smaller items or a large full sized forty foot container for the larger order of materials that you need to store before the project gets started. This flexibility is all part of the Haulaway service promise.
Another part of that service promise is to give you a shipping container rental that includes a container made of 14 gauge steel with hard wood and steel floors. The construction shipping container in Los Angeles you receive from Haulaway will be wind and water resistant while also offering you the security you need to ensure your items are protected when stored in the container. Deliveries will be on time and easy for you to enjoy while the container is on your site. Partner with Haulaway and have the container you need delivered today, shipping containers near you!. We carry Conex containers and Roll Off containers.