Common Storage Container Uses by Commercial and Residential Contractors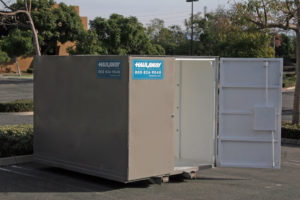 Construction storage containers are frequently used for temporary job site storage by commercial and residential contractors. These multi-purpose, heavy-gauge stainless steel boxes are built to securely hold everything that a contracting company would need at a job site, as opposed to a separate storage facility or warehouse. Construction storage can help streamline the construction process by eliminating the extra time and added expense of transporting equipment, supplies, and other essentials between the main office and the job site. Cutting out transportation time also reduces the potential for vehicle accidents and subsequent workers' compensation claims.
Temporary construction storage containers are most commonly used to:
Safeguard tools and equipment:

Heavy-duty steel construction storage containers with a high security locking system keep tools and other equipment under lock.

Protect materials from the elements:

Water-resistant construction storage also helps keep materials and tools from being damaged or destroyed by rain, dust, debris, and fire.

Keep materials and building supplies on site:

Contractors have everything they would need for the length of a project. Ground-level access and double doors are provided for ease of use.
Construction storage containers come in a variety of sizes to fit specific needs. 10'-20' temporary construction storage containers are mainly used to store smaller tools, equipment, and supplies. On large sites, individual types of supplies such as iron rebar, cement blocks, or paving stones can be organized separately into these smaller-sized containers, reducing the time needed to find and ready them for use.
Larger construction storage containers can easily accommodate a heavier load of tools, equipment, and supplies, offering optimal performance and convenience. With additional storage container add-ons – including ramps, steps, shelving, and more – 40′ storage containers can be adapted to a variety of specialized purposes, including storing forklifts and palette loaders, as well as securing large supplies.
With construction storage containers ranging in size from 10 to 40 feet, these units make it easy and affordable to transport, store, and use just about anywhere.