Industrial Storage Containers Portland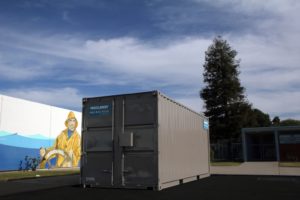 When it comes to secure industrial storage containers with in the Portland vicinity, Haulaway has you covered. We offer storage solutions to our valued customers in Portland and across the Western United States in major cities in Arizona, California, Oregon, Washington, Nevada, Utah, and Colorado. By ordering locking storage containers with Haulaway you receive not only the convenience of temporary and portable storage but a world class customer service experience. Our motto is "service, service, service" and you will see that in every step of the process, from the professional quote to on-time delivery of your unit to final pick up.
Whatever you are looking to store, from business records to inventory to equipment and supplies, our outside storage containers are the perfect choice. Instead of having to rent offsite storage or the expensive draw-out process of building your own, look to Haulaway for industrial storage containers that can be immediately delivered to your Portland jobsite or business. Having temporary and portable units is cost-effective for you and hassle-free. If you need more storage space or a bigger unit, we can deliver another to you, often within one business day. When you are done with your project or remodel, we come collect, with no permanent structure for you to clean up.
Most importantly, our locking storage containers are secure and durable. They can withstand all types of weather, and you never have to worry about your equipment or product inside our steel units. Every unit is secured with our proprietary Rhino Locking System, which provides the best security in the industry. Partner with Haulaway for industrial storage containers in Portland, and be consistently pleased with our customer service and storage solutions. We are always available to answer questions and find the right storage option. Contact us today to discuss how we can help you.
RECEIVE A QUICK & FREE ONLINE QUOTE OR CALL US NOW AT 800.826.9040