Locking Storage Containers Las Vegas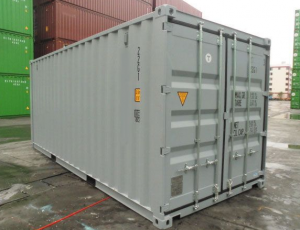 When you need locking storage containers in Las Vegas, there's only one company you need to call. Welcome to Haulaway Storage Solutions, your partner in roll-off and cargo containers of all sizes. Our outdoor storage containers are used by businesses and individuals throughout the Western United States to solve storage problems, including keeping your materials safe, such as:
Construction materials
Office supplies
Personal items
Vehicles
Retail inventory
Equipment
Furniture
How can we ensure your property is safe? With our proprietary Rhino locking system. This patented locking technology makes sure your goods are secure in the container, and safe from theft and vandalism. In addition, each container is built solidly from 14 gauge steel, providing weather resistance so your items won't get damaged from wind, rain, snow, or animals. Have you ever had squirrels, racoons, or rats get into your attic and destroy things, like digging through boxes and scratching up furniture? That's not a problem with our enclosed outside storage containers.
Now that you know Haulaway's locking storage containers will keep your property safe from the elements, mischievous animals, and theft in Las Vegas, it's time to discuss sizes. We have a variety of sizes to suit every application, starting with a 10' roll-off container that is perfect for homeowner's needing storage for furniture during a remodel, holiday decorations, or mementos. We also have 21' and 26' roll-off units with double doors at both ends, offering easy access to all your goods inside, and making loading and unloading the outdoor storage containers a snap. Our cargo containers come in 20' and 40' options. That's 5 different sizes, varying from 10' to 40', to offer our customers a total range of storage containers.
Do you need a different size? Contact us to discuss custom storage containers! Haulaway is here to help you get the exact locking storage containers you need in Las Vegas.