Mobile Storage Containers Phoenix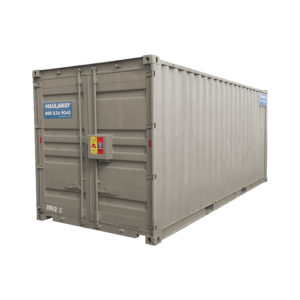 Looking for high-quality mobile storage containers in the Phoenix area to use for business or residential use? Haulaway has got you covered. If you've priced out stationary storage units, you know that they can be a pricey monthly investment. Plus, you have to physically haul items and equipment to and from the unit. Portable storage containers remove the hassle, and ours are very affordable. Whether you're a homeowner looking for a place to store furniture during a remodel or a landscaping business that needs a convenient, mobile container for your equipment, Haulaway containers are the perfect solution for you.
If you're wondering about the benefits of mobile storage containers for your Phoenix home or business, allow us to elaborate. We've already touched on the convenience of mobile storage units, but beyond the ease of moving your unit from location to location, we also offer drop-off and pick-up where you need it, when you need it. Whether you're looking for a temporary solution or a permanent fixture for your business, we offer flexibility that works with you, not against you. Our portable storage containers are made of weather-resistant 14 gauge steel, offering protection from both heat and damp. Security is one of our top priorities, which is why our patented Rhino Locking System is included with every unit. Double doors make accessibility a breeze so you never have to do any tricky maneuvering to get even large equipment to fit through the door. Our storage containers come in a variety of sizes, from 10′ to 40′, as well as custom sizes if needed. That means you can store anything from personal items to vehicles or even a boat.
Our mobile storage containers are used by businesses throughout the Phoenix area, including those in government, education, medicine, retail, construction, and more. Our Phoenix office is conveniently located at 3515 E. Illini Street, and you can reach us toll-free at 1-800-826-9040 anytime. Call us now or go to our online form to receive your free quote.