Mobile Storage Containers Salt Lake City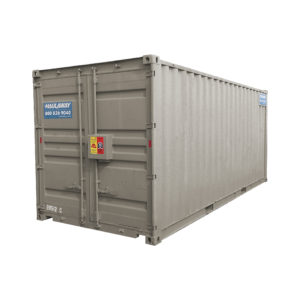 Next time you're on the lookout for quality mobile storage containers in Salt Lake City, make sure Haulaway is at the top of your list. The convenience of portable storage containers is unmatched — not only are the affordable, they're also secure and delivered directly where you need them. At Haulaway, we're happy to offer pick-up and drop-off wherever you need, whether it's a residential home or a construction site. Our patented Rhino Locking System keeps everything completely secure while our weather-resistant 14 gauge steel construction ensures that your belongings and equipment are protected from the elements, including heat and water.
When you're working with a stationary storage unit, you have to worry about getting to and from the unit with your belongings, as well as paying a rental fee. With Haulaway mobile storage containers, we can deliver them anywhere in Salt Lake City and beyond, often within a day! This saves you time, money, and stress. Our portable storage containers come in a range of sizes, from 10 to 40 feet, so you can find the size that's right for your needs, whether you're storing furniture during a home remodel or a boat during off-season. Mobile storage units are used in a variety of industries, including medicine, education, government, construction, retail, and more. From storing landscaping equipment to keeping a job site tidy, you can find dozens of uses for an on-site, portable storage unit. If you need a custom size, that's no problem. We construct our own units, so we'll get you exactly what you need. With convenient offices located throughout the nation, even interstate travel is easy with Haulaway.
We're now offering a limited supply of containers with doors on both ends to make loading and unloading even easier. Next time you're looking for storage solutions, please consider Haulaway mobile storage containers. Our Salt Lake City office is conveniently located at 60 South 5100 West, and you can reach us toll-free at 1-888-822-8211 anytime. Call us now or go to our online form to receive your free quote.