Shipping Container Rental Olympia WA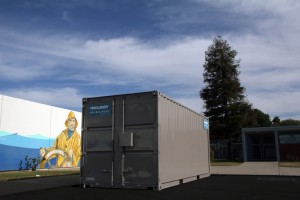 If you're looking for shipping container rental near Olympia WA, make Haulaway your first choice. We offer a variety of sizes of storage units for all sorts of applications. Businesses throughout the Western states trust us to prove them with the temporary, portable storage they need, on-site at their location and on-demand for a fair price, delivered directly to them.
Haulaway storage containers are the perfect solution for retailers with fluctuating inventories. If you need to keep extra merchandise on-site to meet your customers' high seasonal demand, but don't want more floor space the rest of the year, you can rent a container to serve as an extra stock room. Our service is affordable, so we fit your budget. We take customer service seriously, and we deliver our storage containers directly to you, often within one business day. Units are delivered clean and ready to use, so you can begin using your extra space right away. The containers themselves are incredibly durable and secure, so you can feel safe trusting your merchandise to our products. Our units are made of 14-gauge steel, and have our patented "Rhino Locking System." Our cargo containers are 8' wide by 8.5' high, and come in either a 20' length or a 40' length. A height of 9.5' is available in some areas, as well. Cargo containers have double doors on one end, for easy entry and simple loading and unloading. (We also offer roll-off containers in 10', 21', and 26' sizes, which allow you to move the container around your site if you need to!)
Our portable storage options are ideal for more than just retail stores, too—they are valuable in a variety of contexts, from residential or industrial uses to construction sites, and at schools, governments, hospitals, and offices. Get a free quote today, and see how affordable our service is! You can call Haulaway at 1-800-262-9040, or get your quote by filling out a simple form on our website. If you submit your inquiry online during normal business hours, we'll get back to you within fifteen minutes. What could be easier? When you need shipping container rental near Olympia WA, think Haulaway.