Shipping Container Rental San Francisco CA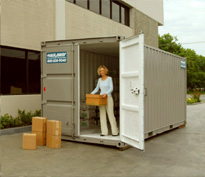 Haulaway is the best source for shipping container rental near b. For nearly 50 years, we've been providing the Western United States with affordable, on-demand portable storage. We offer rentals of temporary storage units, which we deliver to your residence or place of business for you to use on-site. If you rent one of our roll-off models, the unit is mobile and can be moved by you around your location. Either way, the storage container remains at your location for the duration of your rental, so you can access it whenever you need it. Call us or log on to our website today to get a free quote, which we will provide you with quickly and with no hassle.
Our storage containers are tough enough for professional jobs, but they're also versatile and affordable enough for residential use! We offer the best customer service you'll find anywhere, so give us a call today and let us work with you to figure out the right storage solution for your home's needs. If you're remodeling your home, you could use our shipping container rental in San Francisco, CA, to safely house your furniture and other possessions while work on one room of your house. That way there's no additional disruption to your home: the kitchen table doesn't have to sit in the living room while you put in new cabinets! You could also store tools and materials for the DIY or professional work in the storage unit, rather than letting them take up additional space in your house. If you leave tools and materials outside, they're exposed to the elements, unsecured, and could be dangerous to children or pets. Our shipping containers are a convenient and simple solution to a temporary space problem. They come clean and ready to use, with hard wood and steel floors, and double doors that open wide for ease of loading and unloading. Because the doors open to ground level, there's no cumbersome lifting to get your materials into or our of the storage unit.
We offer containers in the following sizes: 10', 20', 21', 26', and 40'. Talk to one of our customer service representatives today to choose the size and specifications that are right for you. We serve customers in many different industries for all their shipping container rental needs near San Francisco CA: retail, industrial, construction, schools, governments, hospitals, and offices.