Shipping Container South Weber UT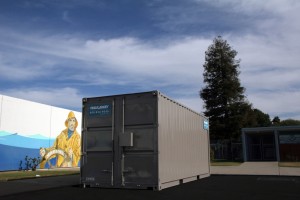 It can be difficult to find the right company to order a shipping container from when you live in South Weber, UT. Luckily, our Haulaway Storage Container super center in Salt Lake City is just a short 30 minute drive away – and we bring the storage container to you! You might be wondering, why choose us over another portable storage or storage unit solution? Well, after 45 years in business, we've made somewhat of a name for ourselves in this industry. Our expertise and commitment to excellence makes us the best option for all your storage container needs.
We offer a variety of temporary storage solutions to benefit our customers. We understand that a 40' container might be simply too much space for your needs, which is why we offer a smaller 10' storage space. Haulaway Storage Containers knows that our customers prefer the best when renting storage containers, and we hold our work to the highest standard. After all, what's the point in renting a unit if you can't trust its construction or integrity? With us, that's not a problem, as we standardize all units to be constructed from the strongest 14 gauge steel. Our containers are weather proof and solid, keeping your valuable records, keepsakes, furniture, and appliances safe and secure for short or long-term keeping.
Since 1958, Haulaway Storage Containers has set the bar high in customer service standards. We deliver and pick up containers on time and according to a schedule that best suits your needs. We even make it easy for you to get an instant quote on our website. By keeping our prices reasonable and our service standards high, we've satisfied our customers time and time again. Getting started is easy. Just give us a call at (801) 466-3160 and let us start assisting you today!