Shipping Container Spanish Fork UT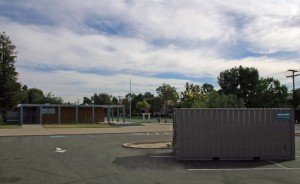 Haulaway Storage Containers, Inc. is your premier shipping container source in Spanish Fork, UT. With several locations in major cities across the Western United States, Haulaway Storage Containers has established a significant presence and reputation as the leading industry expert. What was once a company that only manufactured portable storage containers for the construction industry, is now a massive operation specializing in all storage container solutions.
We carry all major sizes of conex steel cargo and roll-off storage containers for rent. With heights ranging from 7' to 9.5' high and 10' to 40' long, we guarantee that our space will fit your needs. All our cargo containers are high security at 14 gauge steel, and come equipped with our patented Rhino Locking System for a little extra peace of mind. They are versatile, and can be utilized for a variety of applications. Imagine expanding your business storage without paying the added cost of building it! Our roll-off containers are just as versatile, with an added layer of mobility and easy access. When you order a 21' or 26' storage container, they feature double doors on both ends of each unit. There are so many benefits to having both sets of doors, such as added ventilation in warm weather, and increased access. All units are wind and water-proof, giving your important belongings that extra layer of safety.
At Haulaway Storage Containers, we care about our customers' satisfaction. That's why we offer next day delivery of all units and friendly service! So if you're in need of a shipping container this week in Spanish Fork, UT, go ahead and give us a call. We know we have the perfect storage solution for you!