Storage Container Rental Peoria AZ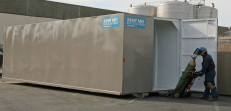 When it comes time for storage container rental in Peoria AZ, Haulaway wants to be your first choice. We're a portable storage company serving the Western United States, and we offer steel shipping containers for rent to residential and business customers. You choose the size that's right for you, and we deliver the container directly to you on our truck. You store your materials in the unit for the duration of your rental, accessing them as much or as little as you need to. At the end of the rental, we take back the empty storage container so it can continue its useful life at its next home. Give us a call today at 1-800-262-9040 to get your free quote, or get a quote online by filling out the short form on our website. Either way, we'll get back to you fast: if you inquire online during normal business hours, we'll respond to you within 15 minutes.
Our shipping containers are trusted by construction businesses throughout the Western states. We serve Arizona, California, Colorado, Nevada, Oregon, Utah, and Washington, and we want to supply your business with the portable storage you need. On a construction job site, you need storage you can trust. You've got to be able to store tools and materials in a secure location, because you need to know that they'll be there when you come back tomorrow morning so you can get the job done. You're a professional, and so are we. Our customer service is the best in the business, and we truly understand our customers. We deliver to your location fast, often within one business day. We offer two types of containers: roll-off containers (available in the following sizes: 10', 21', or 26' in length, by 8' wide, all with double doors at both ends and a high-security locking system) and cargo containers (at 20' or 40' long, with double doors at one end, and featuring our patented "Rhino Lock System").
Haulaway is the only name you need to know for storage container rental near Peoria AZ. And we're not just for construction uses, either: there are unlimited applications for our storage solutions, including at schools, offices, and hospital, and in residential, industrial, and retail settings. Whatever your unique situation is, contact us and let us help you find the right storage for your needs.