Industrial Storage Container Prices San Diego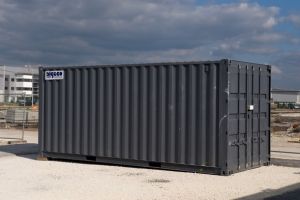 Are you looking for industrial storage containers prices in San Diego? Haulaway can help! Our website showcases our various roll-off and cargo containers, including sizes. We have five standard sizes, a 10', 21', and 26' roll-off, and 20' and 40' cargo containers. By selecting a size and inputting your delivery zip code, you can start the process for a quick and easy quote online. Not sure what size industrial storage containers you need? That's ok too! Our friendly customer service representatives can help determine what storage container would be best for you. Our variety of sizes means we have something for everything, from a homeowner wanting storage for seasonal items like winter lawn ornaments to a business owner needing long-term storage for a large inventory base. Haulaway has been proud to offer onsite large storage containers to the construction industry, as a convenient and secure way to keep tools and materials onsite. We are pleased to provide the same storage solutions to you, whatever application you have in mind.
Haulaway stands apart from other storage solutions with our competitive industrial storage prices and ability to deliver quickly to San Diego. In comparison to expensive offsite storage units, our large storage containers can save you money, and time spent schlepping stuff back and forth to the storage unit. We also offer rapid delivery times. Do you need storage this week? We can deliver to many cities within one business day! Haulaway has fifty years of experience serving the Western United States, and has established delivery lines and offices throughout California, Oregon, Washington, Utah, Nevada, Arizona, and Colorado.
You know that Haulaway has a wide selection of large storage containers, can deliver quickly, and provides fantastic customer support. The only piece left is to call or visit online for industrial storage containers prices to deliver to you in San Diego. Check out Haulaway today!
RECEIVE A QUICK & FREE ONLINE QUOTE OR CALL US NOW AT 800.826.9040