Locking Storage Containers Los Angeles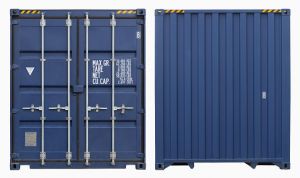 Did you know that Haulaway offers locking storage containers in Los Angeles? These can be particularly helpful in situations where offsite storage is expensive and time consuming. For example, a construction crew may be working at the same job site for months. Without proper storage, the employees must lug the equipment and supplies back to the yard daily. This wastes time and money. Outdoor storage containers allows your building crew to leave their construction equipment safely locked up without needing to travel back and forth to the yard. Leave all the tools and materials right where you need them, and get back to the job faster. This is just one example of countless scenarios where outside storage containers save businesses time and money.
Haulaway offers premium locking storage containers for our valued customers in Los Angeles. Are you worried about theft or vandalism of your personal property? With our patented Rhino Locking System, your concerns are totally assuaged. There's no need to stress about our outdoor storage containers. They are weather-safe, built with 14 gauge steel, and totally secure. This security means you can safely use our units to store anything, from construction tools to personal belongings during a remodel. There are so many uses for our industrial containers, the question isn't if you will use our units, but how.
If you are a school, business, construction crew, or homeowner, you may need storage. Haulaway is the best source for locking storage containers in Los Angeles and across the Western United States. What makes us number one? Dedication to our customers, which is seen in our responsiveness to customer requests, rapid delivery times, and clean, well-maintained units. When you need storage containers in California, Oregon, Washington, Nevada, Utah, Arizona, or Colorado, contact the storage professionals. Haulaway can help determine what size roll-off or cargo container will be best suited for your needs.
RECEIVE A QUICK & FREE ONLINE QUOTE OR CALL US NOW AT 800.826.9040