Roll Off Container Portland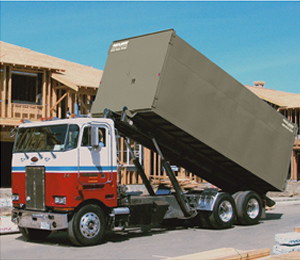 Haulaway Storage Containers carries a full line of roll off container Portland, Oregon storage solutions for sale or rent.  We specialize in construction storage solutions for the Western United States.  When you are bursting at the seams, we can help!  Haulaway will deliver as many steel storage containers and shipping storage containers as you need directly to your job site, and place them exactly where you direct.  Once your project is complete, we offer quick pick-up to get your job site cleared out and ready for the next step.
We offer a wide variety of sizes of containers, for maximum storage and versatility.  Our containers are as short of ten feet long, and as long as forty feet long.  All offer a secure locking system and easy ground level access for safety and security.
Haulaway rents and sells high quality steel storage containers.
For longer projects, as well as permanent storage, purchasing a container can be more cost effective than a long term rental. Not sure whether to rent or buy a roll off container for your job site?  Give one of our friendly customer service agents a call.  We can discuss pricing and options and help you choose the best option for your project.
Haulaway Storage Containers maintains our extensive roll off container stock for the Portland area at our 18420 SW 126th Place location in Tualatin.  Rent or buy a roll off container quickly and conveniently with our great products and customer service.   Give us a call today, browse our website to see some of our great storage solutions, or use our convenient online chat feature.  Whichever way you choose to contact us, we look forward to hearing from you soon.