Shipping Container Rental San Diego CA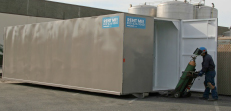 Shipping container rental in San Diego CA offers a convenient solution for your storage needs. Haulaway Storage offers portable storage in a variety of sizes, allowing you to keep your things on-site, while staying out of the way and well-protected. Our storage containers are water resistant and secure so you can be confident your belongings are safe and sound from damage, weather or theft.
We deliver the container right where you need it. Imagine keeping everything you need right on-site, avoiding the packing, moving, hauling and driving to and from public storage facilities. Perfect for construction sites, businesses, schools, hospitals or even personal use, our storage container solutions will save you time and money over more traditional options. Shipping container rental in San Diego CA from Haulaway Storage will give you the space you need, when and where you need it more.
The process is simple – order the size and type of container you need and we'll deliver it to your requested location. You can pack it, access it, and use it however you need. When you're finished, unload it and we'll come back to pick it up. Whether you're looking for short term or long term storage needs, our on-site shipping container rental is a great solution around the San Diego CA region.
Contact us today or request an online quote now to learn more about our storage solutions and how we can help you during constructions projects, inventory changes and more. With extra space right where you need it most, Haulaway Storage is the perfect partner for all of your storage container needs!