Storage Container Near Me San Diego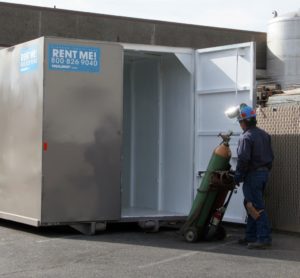 Many of our customers have asked themselves, "Where can I find a reliable storage container near me in San Diego?" Whether you need shipping containers for business or home storage purposes, Haulaway Storage Containers has the most secure and easily accessible containers you can find. Not only do we have what you need, but with us you'll never have to worry about getting quality customer service. That's because we've been in business for almost 50 years, so we know a thing or two!
Storage Solutions for Every Situation
After opening our doors in 1968, Haulaway Storage Containers has been providing temporary storage solutions to a wide variety of clients. From our humble beginnings renting to the construction industry to our now multi-state operation, we've become the leading experts throughout the Western United States. We're there when you ask, "Where are the best shipping containers near me?"
There are so many benefits to renting a storage container versus a storage unit. Our customers love all the time they save due to the convenience of an at-home or business shipping container delivery. In many cases we are even able to ship out a container by the next business day. So if you think you'll have to wait weeks for your storage container to arrive, you'll be pleasantly surprised by our fast service! Imagine 24-hour access to all your belongings without ever having to leave the comfort of your own property.
Not only are they convenient, but our storage containers are completely secure. From sturdy steel construction to our patented Rhino Locking System, there's a reason that our containers are often requested by hospitals, offices, schools, and government buildings. So stop asking "Where's the best storage container near me in San Diego?" and contact Haulaway Storage Containers today! You're just a short phone call away from finding the best shipping container for your home or business.